Lectures Home
There is no more lectures this season. We are looking forward to seeing you next season.
Meanwhile, you can visit archive of past lectures.



The entry is free for everybody.
---
The Mendel lectures take place in Mendel Museum Brno and are live broadcast to Czech Academy of Science, Institute of Molecular Biology in Prague and Faculty of Science, Charles University in Prague.
---
Refectory of Augustinian Abbey
Mendlovo namesti 1a, Brno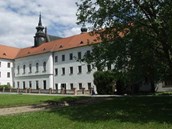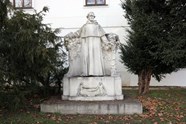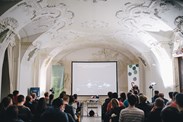 13 Years of Tradition
MENDEL LECTURES
SCIENCE IN THE CRADLE OF GENETICS
LEGACY OF J. G. MENDEL
Celebration of Science
Meet and Talk to the World's Top Scientists Including Nobel Laureates
OPEN TO ALL
Genetics
one of the fastest growing fields of science, whose roots lead directly to Brno and Gregor Johann Mendel – and the world's top scientists in discussion with students and young researchers: these are key attributes of the prestigious Mendel Lectures series, which has been held for eight years at the Mendel Museum in Brno.
The first series of Mendel Lectures was in 2003, when it was devoted to the 50th anniversary of the discovery of DNA. Since then, Brno has been visited by 50 scientists, including Nobel Prize winners. The lectures held in the refectory of the Augustinian Abbey in Old Brno – the very place where Mendel, the founder of genetics, worked almost 200 years ago – are attended annually by almost one thousand undergraduates, PhD students and scientists, who meet leading figures of science for whom otherwise they would have to travel the world. Valuable contacts are made at the event.
Great thanks belong to:
Anna and Kim Nasmyth, Gustav Ammerer, prof. Jan Motlik and prof. Jirina Relichova for initiating, supporting and co-organizing the Mendel Lectures series.
Scientific Advisory Board:
---
Simon Boulton
Royal Society Wolfson Merit Award Holder
Cancer Research UK, Clare Hall Laboratories, South Mimms, UK
simon.boulton@cancer.org.uk
Lumir Krejci
Masaryk University
& International Clinical Research Center of St. Anne's University Hospital
Brno, Czech Republic
lkrejci@chemi.muni.cz
Vita Bryja
Masaryk University
& Czech Academy of Science
Brno, Czech Republic
bryja@sci.muni.cz
Main organizers:
---
Faculty of Medicine, Masaryk University
Other organizers:
---
Mendel Museum, Masaryk University
---
St. Anne's University Hospital Brno – International Clinical Research Center (FNUSA – ICRC)
---



Public Relations